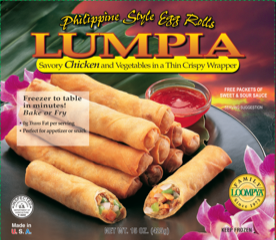 Cooking Instructions
KEEP FROZEN
DO NOT THAW PRIOR TO COOKING.
Separate frozen lumpia, if necessary.
For Crisp, Golden Brown Lumpia:
Preheat oil to 350°F.
DEEP FRY
Preheat oil to 350°F. Completely Immerse for 5 minutes or until golden brown.

PAN FRY
Preheat oil to 350°F. Fill pan 3/8″ with oil and turn lumpia frequently for 5 minutes, or until golden brown.

BAKE
Preheat oven to 400°F. Brush lightly with vegetable oil, or use cooking spray. Bake for 10 to 15 minutes, turning lumpia every 5 minutes. Lumpia will be light golden and crisp.
Nutrition Facts Serv. Size: 2 Pieces (85 Grams). Servings Per Container: About 5. Amount Per Serving: Calories 180, Fat Cal. 25,
Total Fat 3g (5% DV), Sat. Fat 1g (5% DV), Trans Fat 0g, Cholest. 10mg (4% DV) Sodium 150 mg (6% DV), Total Carb. 31g (10% DV), Fiber 2g (6% DV), Sugar 1g, Protein 6g, Vitamin A (8%), Vitamin C (6%), Calcium (2%), Iron (10%). Percent Daily Values (DV) are based on a 2000 calorie diet
Ingredients:
Filling: Chicken, Yams, Onions, Celery, Bean Sprouts, Green Beans, Carrots, Bamboo Shoots, Soy Sauce, Garlic, Vegetable Oil, Salt, and Black Pepper.

Wrapper: Enriched Wheat Flour (Wheat Flour, Niacin, Iron, Thiamine Mononitrate, Riboflavin, Folic Acid and Ascorbic Acid added as a dough
conditioner), Water, Salt and Soybean Oil, May also contain less than 2% of the following: Egg White, Malted Barley Flour, Rice Flour, Monoglyceride, Lechitin and Sodium Benzoate.

*NO MSG ADDED, except that which naturally occurs in soy sauce.